Hi Friend, how can we help?
In this article we will break down the differences between using Custom Fields and Tags and how we recommend using them to organize your inventory and maximize your sales.
Custom Fields allow you to add more categories to your items. Much like Tags, you can also search within the binin app to find items with the same Custom Field. See the image below for some of our favorite Custom Fields to use.
Tip: Using Custom Fields like Weight, Box Size, or Dimensions may save you time when shipping later if you already have the information saved in your binin app!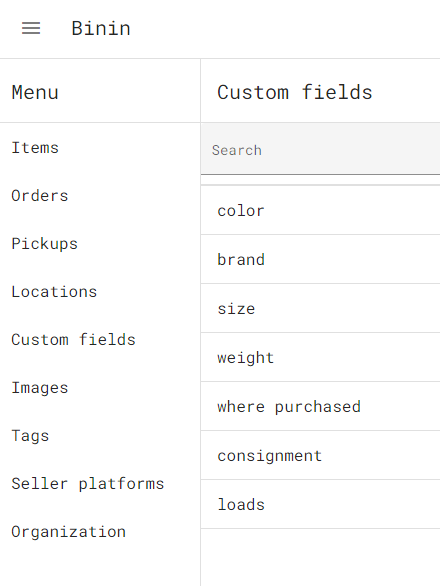 Tags- Fun descriptive words that help you market your items online and organize them in your binin app at the same time! The same way that you can search for specific tags online, you can search within the binin app. Below is an example of popular tags that we use.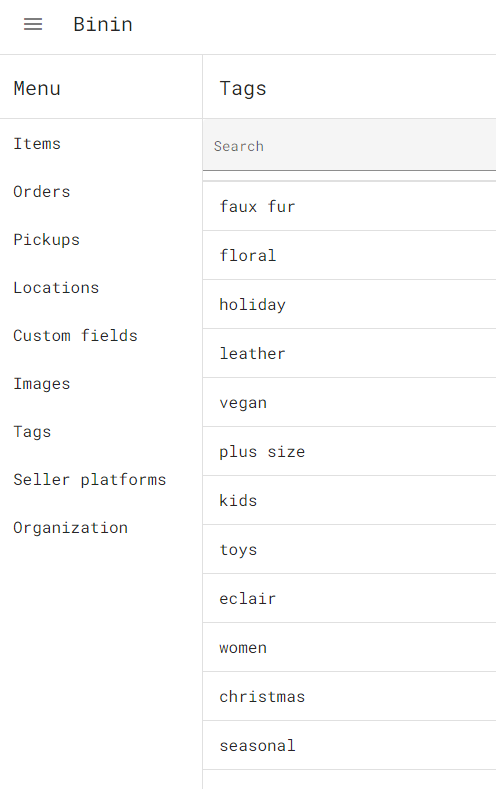 Here is a list of popular tags to help you describe your items!
Satin, Silk, Wood, Metal, Glass, Plastic
Linen, Cashmere, Cotton, Organic Cotton
Teen, Kids, Toddler, Baby, Newborn, Big Kids, Little Kids
Easter, Birthday, Holiday
Party, Outdoor, Indoor
Summer, Fall , Spring, Winter, Seasonal
Craft, Vintage, Farmhouse, Modern, Contemporary
New, Old, Used, Refinished
Electric, Battery Powered
Women's, Men's, Matching Sets, Family Sets